"Do What You Love!"™
join us @ info@badboarderz.com
Get Swagged Up!
We at Bad Boarderz focus on HIGH-Fashionable SNOW . SKATE . SURF Apparel.
We are bringing SWAG back to the Slopes, Street and Beach!
We manufacture the Worlds best CARBON-FIBER skate decks, original WOOD skate decks and a ENERGY DRINKS that's comparable to non. (drink responsible non excessive and 18yrs & over only)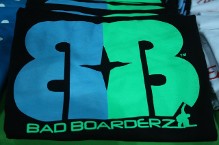 We produce the Best Top Notch Gear that you can wear anywhere!! Rock it boarding, skating, surfing or just chilling with your crew!
We Sponsor Unique Events and Competitions for those individuals seeking the progression of Snowboarding, Skiing, Skateboarding, Surfing and Wake-boarding.
Grab your board, a bit of sunshine and come "Do What You Love!" ™
Bad Boarderz @ Ski Dazzle . Venice Skate Park 2014
We welcome kids, teens, adults, beginners, amateur's and pros to come join the fun.
Rail Jams, Slope Style, Big Air, Street Skate, Boxes, Bowls, Wake-board, Surf Lessons and more!

We are based in Santa Monica, CA but travel abroad.
Receive only the Best Quality and Professional Services, from BAD BOARDERZ.
Our multifaceted company is here to assist by providing a wide range of services from snow, skate and surf apparel to events at affordable pricing. Stop sitting at home bored. Join us!

Simply contact us at:
info@badboarderz.com at your earliest convenience.
STAY CONNECTED

UP TO DATE INFO, PRIZES & GIVEAWAYS - LIKE US & FOLLOW US ON

"Do What You Love!" ™

Bad Boarderz LLC . 3435 Ocean Park Blvd Ste 107 . Santa Monica, CA 90405
Copyright © 2014 Bad Boarderz LLC All rights reserved.